A Good Mobile UI Is About Delivering the Relevant Information
Irrelevant information is like a noise on a mobile UI. Cut out the clutter from a mobile interface. Cluttering a mobile UI design is like overloading users with too much information for processing.
Every added UI element – icon, button, image and sign make it difficult for a user to comprehend information. Confused about seeking services? Hire web development agency in Singapore or hire a web designer with professional services.
On desktop, you may have somewhat of free space whereas on mobile screen you have to play with limited space.
Do you know an average US user spends 5 hours on mobile daily? And the user is spending most of his time on mobile apps.
Essential Component of Product Strategy - UX
So what makes an app successful? Simply, the one with good UX. Also, an essential component of product strategy is the UX. These days, users expect a lot from a mobile app. Fast loading time, user experience and interaction are some important factors.
Solve user problem
- an app should address the pressing problem of the user as he expects so when he downloads an app. Vibrant sense of purpose is the key for a successful app.
Help your user in accomplishing a goal
– focus on user goals and remove all hurdles coming in the way.
Clarity
– this means there is no room for confusion when we consider user understanding for an app. He should know the app objective in the first place and operate the app easily.
One primary action/screen
– a simple rule for
mobile UI design
is using one primary action per mobile screen. Each screen should perform one primary action, this is easy for user learning and understanding.
Let's take Uber as an example. It doesn't complicate user flow. When a user opens it, it automatically detects user's current location and the only action is picking up the drop-off location.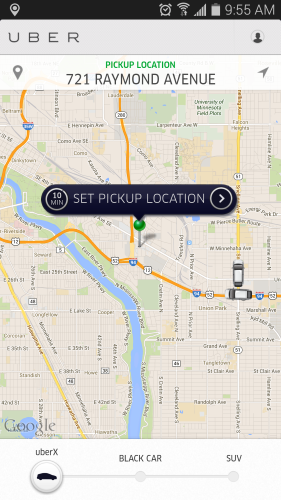 Reduce user effort
-  above example reduces user effort in what he wants. This makes an app favorite.
Hence, it is quite evident that user doesn't like putting more effort and he wants a clear understanding of what is a mobile app all about. Reduce unnecessary buttons, images and signs. 'An action per screen'.